Our board comprises of our Chair, Chief Executive, Director of Business and Marketing, Director of Finance, and Director of Nursing and Allied Health Professionals, and our Non-Executive Directors. They exist to provide the strategic leadership and decision making to ensure we are a great place and to work and continue to provide the best possible care.
You can view our Board Declarations of Interest here.
Our Articles of Association can be viewed here.
Michael joined the CityCare Board as Chair in May 2018. He was previously Chair of a health care social enterprise in Cornwall and the Isles of Scilly.
Michael worked in Nottingham as the City's Corporate Director (Communities) until 2010 and had responsibly for a wide range of community services, including adult social care.
He champions health and social care working for the benefit of local communities.
Lyn has strong clinical experience having been both a nurse and midwife. She has worked in Nottingham City for 12 years, gaining an excellent understanding of local issues and health inequalities.
Lyn has held a variety of managerial roles including Midwifery and Locality Management, working across all services within a defined area and linking closely with primary care. She became Chief Operating Officer of CitiHealth NHS Nottingham in January 2010 prior to its transformation into CityCare.
She is particularly passionate about partnership working and strengthening leaders at all levels to drive quality and excellence, establishing a strong sustainable business that is valued and supported within the community it serves. Key to this is empowering staff to shape their future and create a culture in which they can drive real change and generate innovative approaches to their work.
Karen has a track record of successful implementation of large scale change processes, and has also had substantial experience of working in partnership with other organisations including the local authority.
This has included successfully negotiating for a health centre to be included as part of a Tesco rebuild in Top Valley, and working with key stakeholders to introduce health rooms into all the city's Children's Centres, vastly improving access for local people.
Karen has held a number of management roles in the NHS since 1991 and has invaluable experience of working in a staff owned organisation, having spent 15 years with John Lewis, one of the largest such organisations.
Tracy brings a long record of service in the health sector, joining the NHS in 1985 as a Registered Nurse (Adult and Children), and holds an MSC in Public Sector Management. Tracy has worked in a number of healthcare settings in both provider and commissioner organisations undertaking a wide range of clinical and leadership roles.
Her recent roles include Director of Operations and Chief Nurse for Spectrum Community Health CIC and Associate Director of Clinical Services for Greater East Midlands Commissioning Support Unit. Tracy is passionate about the professional nursing agenda and driving forward high quality patient safe care that provides our patients with the highest experience through integrated working across the health and social care system and ensuring both innovation and opportunities are maximised.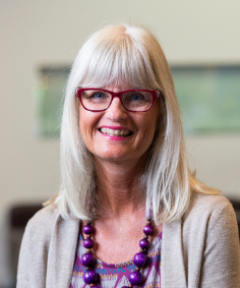 Louise joined CityCare as Director of Finance and Corporate Services in 2019, having previously served as Chief Finanacial Officer for both NHS Derbyshire CCGs and NHS Nottingham City CCG. Louise is a qualified accountant and studied Industrial Economics at the University of Nottingham. Her track record of improving financial governance, combined with strong financial management skills developed in both the public healthcare and private sectors, are supporting the work of CityCare to build a robust and sustainable future for the organisation.
Kathryn is a graduate of the University in Nottingham and is a chartered accountant by profession. Her career has included senior finance, finance and corporate services director and non-executive director roles in both the public and private sector, in areas including NHS, children's services, transport, leisure, chemicals, audit and tax.
She brings a broad experience in all areas of corporate services, risk and assurance, and running demand-led services in financially challenging times.
Anne is a graduate of Sheffield University and is a member of the Chartered Institute of Public Finance and Accountancy. She undertook her professional accountancy training at Trent Polytechnic in Nottingham. She has worked in the NHS for 36 years and has been a Board level director for most of the past 25 years.
Anne's career has spanned 36 years in the NHS, working across different health systems in both provider and commissioning organisations and at local and regional level.
She has held a wide range of positions including Director of Finance and Information, Director of Performance, System QIPP and Transformation Director, Director of Development, Programme Director, Transition Programme Director and Chief Executive. She is currently Deputy Chair at Tameside and Glossop Integrated Care NHS Foundation Trust.
During this time she has acquired a depth and breadth of experience across many disciplines including finance, performance, commissioning, contracting, marketing, information and IT, modernisation, operations, HR, estates, corporate services, governance, turnaround, QIPP, strategic and business planning and partnership working.
Her particular strengths are in partnership working and developing and implementing major change programmes.
Anne is married with 2 grown up children.
Lynn is a Registered Nurse, Midwife and Health Visitor. She undertook her Nurse training in Nottingham at the City Hospital and worked as a midwife in the Meadows area of Nottingham and as a Health Visitor in Strelley/Broxtowe before moving into Senior Management.
Through her career spanning nearly 40 years in the NHS, Lynn has worked across health systems in both provider and commissioning organisations at local, regional and national levels.
Lynn has held a wide range of positions in senior clinical roles latterly as Chief Nurse and Director of Quality at Southern Derbyshire Clinical Commissioning Group. She retired from that role at the end of 2016. Her particular strengths are in clinical leadership, quality assurance, governance, safeguarding and patient safety.